There was only one upset yesterday, a score line we never expected. Real Madrid lost against CSK Moscow pushing them to third on the table. It will be shameful if the defending champions fails to qualify in the group stages. Only two matches has been played so far. It's too early to determine anything, there are four matches to go. Bayern Munich drew Ajax, Manchester United also played a draw against Valencia while Manchester City won their match. They needed that win anyway.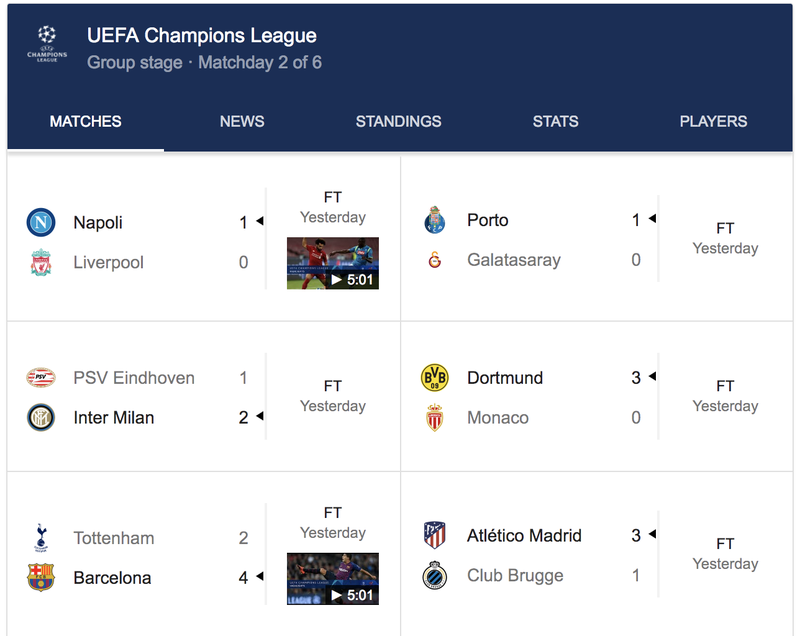 The fight for the final round continues. Groups A, B, C and D will be battling today. Let's take a look at each group.
Group A
Atletico Madrid and Dortmund are topping this group with 3 points each. Atletico's win against Monaco and Dortmund's win against Club Brugge placed them there. This is one of the toughest group in the competition. Now, Atletico will be playing against Club Brugge in Madrid while Monaco welcomes Dortmund. These are matches worth watching.
Group B
Ever wonder why Barcelona keeps getting tough opponents in champions league group stages? Well, this isn't tough unlike the previous seasons but if they aren't careful here, they might not qualify. The team did well in their first match defeating PSV by 4 goals to nil. They are currently first on the table while Inter Milan followed suit with 3 points too. Inter won Tottenham in Italy.
Tottenham will be welcoming Barcelona today, that's one of the biggest match today and it's necessary Tottenham wins. They can't afford to lose 6 points in two matches. Inter Milan will be looking forward to winning PSV too. There might be upset in this group, it's just a matter of time to find out.
Group C
Paris Saint German will be facing FK Crvena Zvezda, this should be an easy win for them on their home ground. Given the fact that they lost against Liverpool in their first game, it's necessary they win this. Liverpool tops the table and would want to claim all 3 points against Napoli today. Napoli on the other hand only claimed a point in their first match, they wouldn't want to lose any point today too.
Group D
Galatasaray's win against Locomotive Moscow is still a shock. It's not just a win, it's a 3 - 0 win. Porto and Schalke 04 are behind with 1 point each. If Porto is looking forward to qualifying, they should better win Galatasaray today. Locomotive Moscow would want to get at least a point from Schalke 04, if it will be possible. This is one of the tightest group too. Predicting who or who may not qualify is difficult.
Next fixtures after this is on the 23rd and 24th of October, this month. Let's sit back and enjoy today's match.