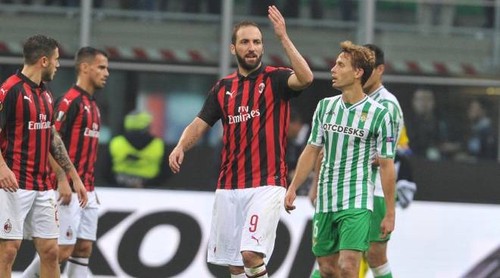 Europa League, Milan-Betis 1-2 bad defeat
For the men of Gattuso arrives against the Betis, the first defeat in the Europa League in the group F. The defeat makes the Rossoneri lose the lead of the group, now a prerogative of the Spaniards. The situation in the standings is further complicated given the simultaneous victory of Olympiacos that shuffles the cards in the group.
Needless to say, Milan is a really complicated moment. The derby was a blow and this defeat is not good for health. Immediately after the serataccia against Inter there was a climate of ultimatum, which indicated how the three successive home games with Betis in the cup, then Sampdoria and Genoa in the league, would be the test bench for the fate of Gattuso on the bench of Milan.
The first of the three shots was fired, unfortunately it was a blank shot. Now they remain in the barrel two more cartridges, Gattuso will do well to give a shock to his players otherwise his adventure at Milan could be at risk.
Milan is presented to the delicate challenge with Kessie and Suso on the bench, despite Gattuso said on the eve of the match that would have deployed the best lineup. Forward beyond the unmovable Higuain space to Borini and Castillejo, given the unavailability of Calhanoglu. In midfield Biglia, Bonaventura and as a substitute for Kassie is deployed the misunderstood Bakayoko.
In the defensive division Zapata instead of Musacchio, among the posts the designated cup goalkeeper is Reina and Laxalt is preferred to Rodriguez.
Betis have excellent players such as Lo Celso, William Carvalho in the median, former Madrid Canales and former Barcelona Bartra.
Milan immediately goes into difficulty, does not have the right intensity and the Spaniards put under the Rossoneri.
Betis took the lead after half an hour of the first half of Lo Celso for Sanabria, good at exploiting a contemporary uncertainty of Romagnoli and Reina.
The first half ends with the visitors in the lead 0-1 and wrong even several opportunities to round off the score.
The start of the second half is certainly not better, the tenth comes the doubling with Lo Celso who is the quickest to intercept a ball from twenty meters and to beat Reina with a big left.
83 minutes into the subterranean Cutrone shortens distances and reopens the game.
Milan also claim a penalty in the closing bars that is not awarded and the match ends 1-2.
Night of Milan for Gattuso.