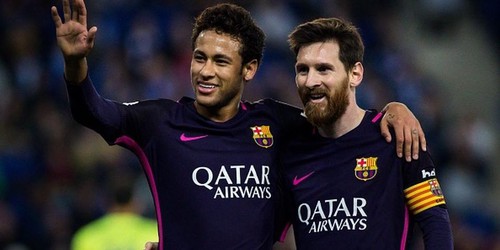 FANTAMERCATO Neymar possible agreement Barcelona and Psg?
The Catalan locker room says yes to a possible resounding return in blaugrana of the Brazilian ace.
The locker room of the Catalan team and in particular the senators was the subject of a poll by President Bartomeu, on a possible return of Neymar. The locker room would have answered affirmatively. Does this open the hypothesis of a return to O'Ney's Boat?
Cadena Ser, in addition reveals that Neymar could leave the PSG at the end of the season and return, for the same amount with which he arrived in the summer 2017, at Barcelona
Rumors of a possible return are multiplying in Spain, based on the fact that the Brazilian does not like the new PSG shirt and continues to offer himself to return to the Camp Nou. Initially Barça's leadership seemed deaf to the Brazilian's statements, but the poll in the locker room and the si senatori could lead President Bartomeu to attempt the assault to bring the prodigal son home.
The newspaper Mundo Deportivo always very close and well informed about the events of the blaugrana, raises the possibility of the resounding return and that the other stars of the team do not oppose this hypothesis.
The response of the locker room was unanimous: Neymar is welcome. The senators of the team, Messi on in particular, is ready to return, the two have always had a great relationship and the technical qualities of the Brazilian are out of the question.
Until a few days ago it seemed unlikely that the PSG could give up its star, given the dizzying figures that revolve around him. But the decisive opening of Bartomeu, the Catalan dressing room and the iron will of the player could bring the deal into port.
The indiscretion also appears, according to what Cadena Ser reveals, that Neymar would have an agreement with the president of the PSG, Nasser Al-Khelaifi, that would allow him to leave the Paris club at the end of this season for the same amount with which he arrived in summer 2017.
If this voice were true, of this agreement between Neymar and the president of the PSG, let's get ready for a possible homecoming for O'Ney!